I and Sigurd Ruschkowski at www.coset.se have developed a series of adapters for Svalander Audio and the documention can also be found there.
I claim this: They are the best in the world!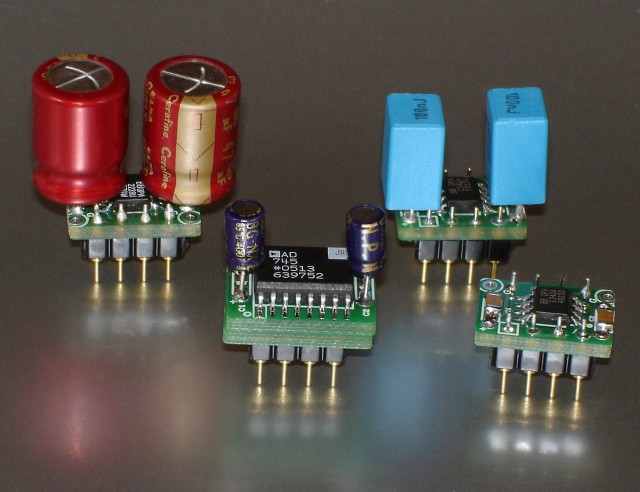 Prototypes with different kinds of decoupling caps. Photo: Sigurd Ruschkowski
Interesting features:
Possibility to use both smd parts and hole mounted parts for additional decoupling. At the picture you can see that almost any type will fit including Black Gates
Adapter for SO16 with a minimal footprint, for example AD745, an ultra low noise JFET opamp
You can have a grounded decoupling. This is something unique.
You can have a grounded decoupling and decoupling between + and - at the same time. See the picture. This is really something unique. No adapter in the world has that and this may sometimes be important if you plan to use demanding high speed, high performance opamps.
Doublesided pcb with plated holes.
Highest quality when it comes to pcb material, compliant to RoHS (lead free).
Notice that the picture shows the prototypes which were made of 1.6 mm pcb. The series products are made of 1 mm pcb, otherwise the same.
As suggested you can use goldplated pins but the holes are big enough for Molex pins with a square cross section, goldplated or not.